News
(…see below for Harbour Board News)
Harbour Manager News:
Dock Water:  With approaching colder temperatures the intention is to shut down and drain all dock fresh water lines no later than 15 November 2017
Fulford Web Cameras:  Web Cameras have been added to the web site for the two wharfs at Fulford
Centennial Dock Web Cameras:  A recent forced firmware update and resulted in the web site feed from these cameras to be interupped.  Images are still being received and recorded elsewhere. A technical solution is being pursued.
Winter Moorage:  A reminder that the finger floats on the the Kanaka dock converts to winter moorage from 1 Oct 17 – 30 Apr 18.  The Kanaka header float will remain available for transient moorage during this period
Burgoyne Bay Dock:  The dock at Burgoyne Bay has been repaired.  The road leading to the dock is in poor condition due to winter water run from last year.  As this road is managed by MOTI I would encourage users to contact Tina Rogers (tina.rogers@gov.bc.ca or 250 952-4005) as the Area Manager Roads to express their concerns on the condition of the road.
Floatplane Waiting Room.  A new floatplane waiting was installed on the Breakwater dock 15 June.  The old waiting room, which was the wheelhouse from the CYPECK, has been donated to Salt Spring Island PARC organization for refurbishment and installation at one of their island facilities.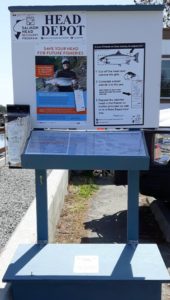 Salmon Head Recovery Program (SHRP):  HASSI is participating in in the Salmon Head Recovery Program where by sports fishermen are asked to collect the head of Chinook or Coho that are missing the adipose fin.  These heads may contain a coded wire tag that allow aquatic science technicians to better track these species and share data with the US under the Pacific Salmon Treaty which contributes to the assignment of resources and quotas.  A fish head station has been established at the top of the boat ramp at Centennial dock in Ganges Harbour.  Further details are available at the fish head station which has spin lock top brine buckets for the heads.
Monthly power rate will increase to $55.00 plus tax effective 1 August 2017.
Winter office hours will commence 1 November:  New hours will be 9:30 – 4:30.  On Mondays the office is closed, except for emergencies, until 12:00 noon.
Office Cell for after hours emergencies 250 537-7530
Parking/Boat Trailer Decals:  New decals for 2017 are available in the office for vehicles and boat trailers.  One vehicle decal will be issued per moorage contract. The parking decal permits use of the Centennial parking lot, space permitting, for a maximum period of 48 hours.  The boat trailer decal allows parking of the trailer, space permitting, in the trailer lane for up to 48 hours. Proof of trailer insurance is required to obtain a decal.
Swipe Card/Fob Access:  The Harbour Office is now issuing electronic access fobs for the bathrooms and shower to vessel owners that have long term moorage agreements for Centennial dock and whose accounts are in good standing.  At this time only one fob will be issued per vessel, at no charge.  If a fob is lost it will be deactivated.  A replacement fob will be issued on request and there will be a fee for the replacement.
Harbour Board News: