News
(…see below for Harbour Board News)
Harbour Manager News:
Pumping out of Vessels:  With the heavy rains associated with the winter season HASSI staff have had to pump out several vessels to prevent them from foundering.  Owners are reminded they are responsible for ensuring the safety of their vessel and that fees will result from HASSI staff having to pump them out.
Dock Water:  Dock water has been shut down for the winter and will be reactivated in the spring.
Centennial Dock Web Cameras:  Centennial dock web camera feed to the web site has been restored.
Burgoyne Bay Dock:  The road leading to the dock is in poor condition due to winter water run off and HASSI has placed a no-post barrier at the bottom of the road divert the stream from running down the walkway.  HASSI is working with Small Craft Harbours to determine a solution to the problem.
Floatplane Waiting Room.  A new floatplane waiting was installed on the Breakwater dock 15 June.  The old waiting room, which was the wheelhouse from the CYPECK, has been donated to Salt Spring Island PARC organization for refurbishment and installation at one of their island facilities.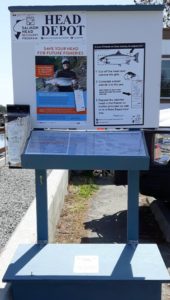 Salmon Head Recovery Program (SHRP):  HASSI is participating in in the Salmon Head Recovery Program where by sports fishermen are asked to collect the head of Chinook or Coho that are missing the adipose fin.  These heads may contain a coded wire tag that allow aquatic science technicians to better track these species and share data with the US under the Pacific Salmon Treaty which contributes to the assignment of resources and quotas.  A fish head station has been established at the top of the boat ramp at Centennial dock in Ganges Harbour.  Further details are available at the fish head station which has spin lock top brine buckets for the heads.
Office Hours:  Winter office hours will commence 1 November:  New hours will be 9:30 – 4:30.  On Mondays the office is closed, except for emergencies, until 12:00 noon.
Office Cell:  For after hours emergencies 250 537-7530
Parking/Boat Trailer Decals:  New decals for 2018 are available in the office for vehicles and boat trailers.  One vehicle decal will be issued per moorage contract. The parking decal permits use of the Centennial parking lot, space permitting, for a maximum period of 48 hours.  The boat trailer decal allows parking of the trailer, space permitting, in the trailer lane for up to 48 hours. Proof of trailer insurance is required to obtain a decal.
Harbour Board News: